I've been thinking about starting up the lifesize Metal Gear MKII project again and thought I'd bump the old thread back up again.
Looking back at my reference I stumbled across a few questions-
Where is this page from and is there a better scan available?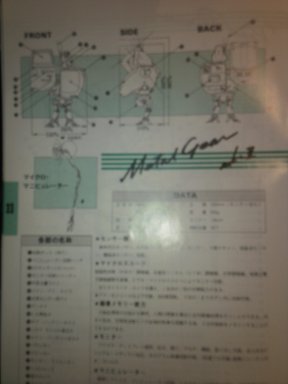 It look like this page has the best reference for the MKII retractable arm. The arm was never used in the Sega CD version but did appear briefly in the original-
Also here are my blueprint blown up to full size. He's about 17 inches (43 cm) tall. I might tweek that measurement a little but it feel pretty nice still.
Next I'll make a quick cardboard mockup of Metal at full size to see how he feels in "real life". I want him to be large enough tomatch the screens from the from the game but not so large that he can't be put onto a book shelf.
Nick